20 July 2022

EngageRM had a key presence at three of the industry's leading events earlier this month, with a week in Manchester at TheStadiumBusiness Summit and TheTicketingBusiness Forum followed by a busy three days in New York at the ALSD Conference and Tradeshow.
A packed schedule of presentations, networking and conference sessions gave EngageRM executives the chance to make new connections and strengthen existing links with the live sports and entertainment sector's leading decision-makers. 
Representing EngageRM at Emirates Old Trafford in Manchester were Commercial Director Tim Barber; Giles Bayliss, Commercial Lead – Europe; and Alex Stasyszyn, Head of Customer Experience – Europe. Tim then jetted off to join Nick Zanotto, VP North America Development; and Genna Opatut, Pre-Sales Engineer, for ALSD at the New York Marriott Marquis in Times Square. 
With an opportunity to discuss key challenges, opportunities and future projects with fellow delegates in a sector that is working harder than ever to engage its fans and customers, the team emerged from both events with the following key takeaways from the cutting edge of the industry. 
Leveraging tech and data is increasingly important 
At ALSD in New York, numerous conference sessions noted the importance of first-party data, with the slow demise of third-party cookies.  
It was a theme that echoed discussions in the UK where, according to Tim, "the general feeling is that the market is realising there is so much more that sport and entertainment organisations can achieve through better leverage of tech and data". Tim adds: "Everyone needs to do a better job of understanding every single first-party touchpoint a customer has with their organisation – and this aligns perfectly with the EngageRM value proposition." 
Alex continues: "Tim did a fantastic job on stage with our presentation at TheTicketingBusiness Forum, and it was great to be able to educate the benefits of centralising data, process, and discuss the power of turning siloed and untapped information into actionable data." 
Operational efficiencies can open up engagement opportunities
In Manchester, the theme was 'doing more with less', as venues and rights-holders attempt to enhance their customer-facing offerings whilst managing acute staffing shortages.  
"This theme tallies nicely with our centralised platform for fan, partner and community engagement," Tim says. "Interestingly, the conversations were often less focused on engagement and more about operational efficiencies that can then lead to maximising engagement and revenue." 
Experiences can be optimised with venue upgrades 
A keynote speech at ALSD referenced research that suggests the 2020s will be the biggest decade on record for venue spend on projects exceeding $100m – including new venues and major revamps of facilities that were build 20 or 30 years ago in the US. 
Meanwhile, in Manchester, multiple development initiatives to improve the fan-facing offering were highlighted. As part of these game-changing venue projects, the visitor experience will be central.   
"There are a lot of venue projects designed to improve experience and maximise premium offerings – this is very well suited to our platform," Tim says. "Uncertainty is still in play though, and consumers are demanding the very best experiences or risk them not turning up or coming back." 
People need to be engaged on their terms 
At ALSD, one attendee described how they have seen a 40% open rate for their emails, but 98% via SMS. This snapshot not only indicated that if an organisation gets to know their customers well enough, new channels of communication are possible, but it also illustrated how understanding people on a deeper level has become crucial. 
For example, efforts to engage younger audiences by thinking outside the box – like hosting pizza evenings for feedback, for example, as well as using social platforms more responsively – were highlighted. 
"I feel that there is an appetite in the industry for venues, leagues, teams, federations and any business with an audience at its centre to further connect and truly understand their customers," Alex says. "With this in mind, we're incredibly excited to see the changes our platform can bring to our partners in the future." 
Making a difference matters 
Venue operators and rights-holders can engage their fans and customers in ways that underline their credentials as forces for good in areas such as the community, sustainability, diversity and the environment. 
"A theme that was consistent at all of the conferences was that being good corporate citizens by making a difference to people's lives and livelihoods is a well-received message," Tim says. 
Such an opportunity was amplified during a joint presentation by Nick from EngageRM and the Portland Timbers' Vice President of Information Technology, Robert Rice. 
"The Timbers had three weeks to organise a midweek charity game and used EngageRM's automated sales process – something they wouldn't have had access to on their old systems," Tim adds. "This enabled them to sell over 18,000 tickets and raise more than $600,000 for UNICEF in Ukraine."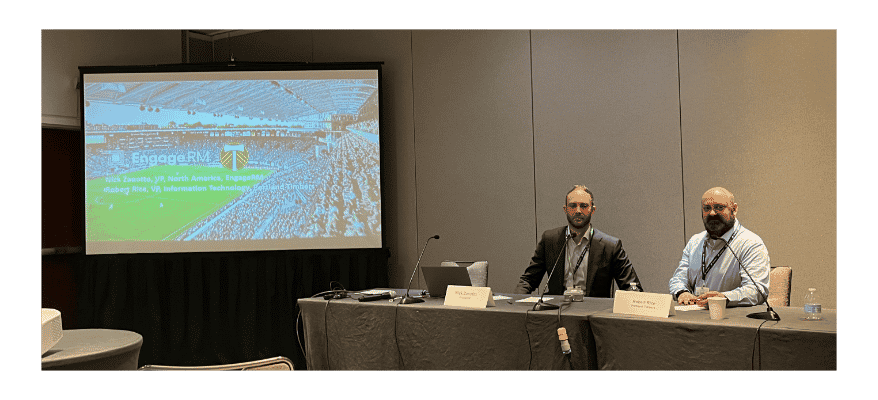 True partnerships work 
Expanding on this point, all three conferences demonstrated the power of collaboration – and EngageRM is at the forefront of efforts to work with partners to engage their fans and customers more effectively for the benefit of everyone. 
"Nick and Robert did a great job presenting at ALSD, and Robert was very complimentary about our product and people," Tim explains.  
"He focused on us being more than just a technology provider. He talked about us as a true partner, and that approach aligns perfectly with our ethos at EngageRM."