28 February 2022
EngageRM's CEO, Ned Coten, recently attended the NBA All-Star Weekend during his trip to the US. In this blog, he shares his experience of attending the three-day event from the perspective of a former athlete and fan of the sport, as well as a CEO. Read on to learn about Ned's time in Cleveland, the people he had the opportunity to network with, and his thoughts on the actions the NBA continues to take to make the world a better place.
Over the weekend of 17th,18th, and 19th of February, I was fortunate to attend the NBA All-Star Weekend in Cleveland, Ohio.
This game is held every year in a different US city to celebrate the NBA's greatest athletes on the court. Off the court, it brings together not only the athletes, coaches, and officials, but also the business leaders of US and global basketball. Many people from across sport and entertainment in the US attend and the weekend tends to be a 'who's who' of celebrities from many fields.
In my former role as President of Basketball Australia, I was fortunate to attend a number of these events and always found it very helpful from a basketball perspective. It allows everybody to meet-and-greet people they already know, while expanding their network by meeting others.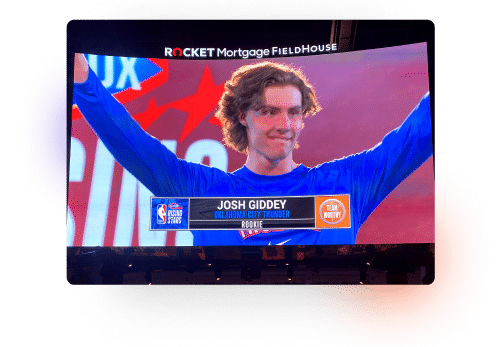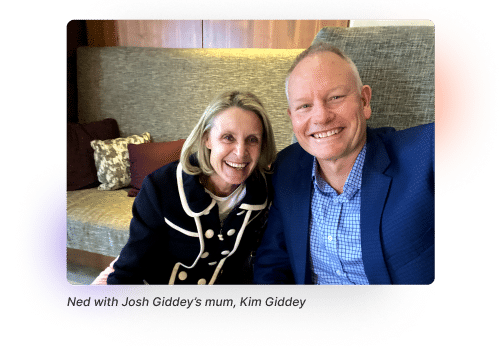 At this event, we had three Australians – Patty Mills, Josh Giddey and Dyson Daniels, participating as athletes. Because of Covid restrictions, I was unable to meet them, but I did spend time with Kim Giddey, Josh's mum.
I've been fortunate to know Warrick Giddey, Josh's father, for many years, but did not know Kim well. Over the weekend and a subsequent meeting in Oklahoma City, it became even more apparent why Josh is doing so well.
The Giddey's are down-to-earth, welcoming and just great people – a perfect foundation on which Josh has started what I think will be an amazing NBA career.
What I have also found is the significant value of the weekend from a business perspective. In my opinion the NBA, better than any other league in the world, maximizes the impact of the ecosystem in which it operates, embracing basketball, commerce, fashion and showbusiness.
More importantly, the league seeks to make the world a better place and takes real action to do so…
While there is an incredible showcase on the court (the NBA is the home of the world's most talented athletes), the weekend brings together the entire business of the sport across the US and many from international markets. There is also the focus on fashion, art, and the industries around basketball. As above, humanitarian issues, diversity and inclusion are front and centre – the NBA works so hard to promote this and influences everyone it can to help.
This aspect was particularly poignant in Cleveland. 2022 represents the 75th year of the NBA, with the 75th anniversary team announced at the event.
Many of the legends that I grew up idolising, including Kareem Abdul-Jabbar, Magic Johnson, Larry Bird, Bill Walton, and others were there, along with today's stars, such as LeBron James & Steph Curry. To cap this off, there was an unexpected appearance from the man who many rank as the world's greatest ever athlete – Michael Jordan.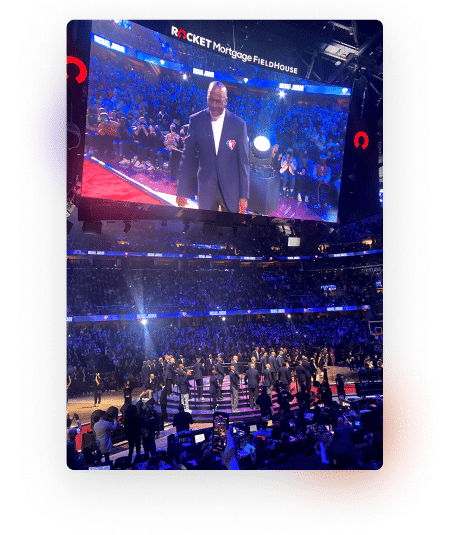 As these athletes were recognised – during half time in the All-Star game itself – the NBA chose to spotlight the roles that many of them have played in raising awareness of diversity, inclusion, and humanitarian endeavours. This has done so much good not only for the game, but for society in the US.
In 1967, at what was known as the 'Muhammed Ali Summit' in Cleveland, 'The Greatest', Ali, was joined by civil rights leaders such as Martin Luther King Jr., Jabbar (then known as Lew Alcindor and at the start of his unparalleled career) and many others, to send a message to the US population about the rights of minorities across the country. The Summit was referred to across the weekend and celebrated at this halftime event, again ensuring that the NBA used its significant platform to raise awareness of genuine global issues – what leadership!
Cleveland and the NBA put on events for art, fashion, and business. As just one example, the 'NBA Newsmaker' event brought together an incredible panel to debate the recovery from Covid. Included were Dr Albert Bourla (Global CEO and President of Pfizer), Dr Andy Slavitt (former Senior Biden advisor), leading AIDS researcher and Professor of Medicine at Columbia University, Dr David Ho, Marcia Fudge, Federal Housing Secretary, and Jabbar (who received an award over the weekend for his humanitarian achievements).
This event was particularly relevant, delving into every aspect of our recovery from Covid and how 2022 is looking as we start the year. There was deep discussion from a medical perspective, the effect that housing for the underprivileged has on the spread of the virus and the critical importance of ensuring minorities have access to medical services, not only in the US but around the world.
In particular, I was made aware that those who have less access to medical facilities are being increasingly disadvantaged and holding back the globe's recovery from Covid.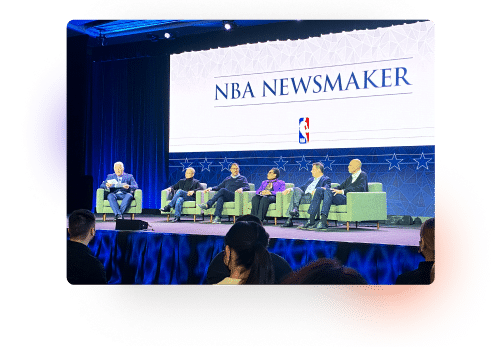 The NBA did not have to focus on this difficult challenge – there are many 'easier topics' that they could have placed in the spotlight. I find it powerful and refreshing that the NBA chooses to use its market power to help the world's population. In my opinion, the most important thing the NBA does is not put on the best basketball competition in the world but address global challenges and help develop solutions for them.
From an EngageRM perspective, the weekend was highly valuable. I was able to meet with a number of people including:
RC Buford, General Manager of the San Antonio Spurs. I have known RC for some time through my connection to one of Australia's most successful basketball exports, Patrick Hunt (who is the Chair of the World Association of Basketball Coaches and the Chair of the FIBA Technical Commission). RC was very generous with his time and made introductions to others in his organisation and the NBA.
Mike Gansey, Assistant GM (recently elevated to GM) of the Cleveland Cavaliers. I met Mike in the foyer of Cleveland's venue 30 minutes before the start of the All-Star Game. No doubt he had lots of other people to meet and things to do, but he took the time to meet. We had a great conversation about EngageRM, and he offered to make introductions to others. While I was with Mike, his mother and other family members came up and introduced themselves. It was clear that Mike had come from great stock, and I really enjoyed the discussion with him and his family.
Jim Tooley, CEO of Basketball USA. Jim is responsible for all the national team activity and has been a stalwart of the basketball industry across the US and globally for the past 25 years. I was fortunate to meet Jim for the first time at a FIBA event some years ago and we have stayed in touch ever since. Jim and his wife, Lea Miller-Tooley are well known in international sport and have been extremely helpful to me.
Ben Turner, Andrew Collins, Tim Corr, and others from Sportradar. I first met these guys, along with Nick Maywald, when I moved to Melbourne in 2000. This team has worked together in various businesses for many years and have taught me a lot about business and life.
Basketball Australia CEO Matt Scriven and high-performance leader (and Olympian / Boomers Captain) Jason Smith. I believe it's very important for Australian sports leaders to involve themselves in global events and meet those from other organisations. Therefore, it was really good to see Matt and Jason in back-to-back meetings across the three days.
Many other people from across the NBA landscape, too numerous to mention but all great contributors to basketball, sport and sports business.
There were a few key themes that struck home with me over the weekend.
The first was the critical importance and sheer joy of people meeting and re-connecting. While we have all been far more productive from a work perspective during Covid, nothing beats the value of face-to-face meetings in an environment like this. While working at home in Covid is very efficient (meaning we get a lot done and get through our task lists faster), meeting face-to-face in this environment is effective (meaning that we get high value outcomes). Every person I spoke to emphasised the value of meeting others, making introductions, and networking in a high trust environment.
Secondly, as mentioned above, I was encouraged by the focus on humanitarian outcomes and diversity and inclusion within sport from attendees (and not just the NBA).
I have been exposed to this a lot recently and it was pleasing to see the growing awareness across the weekend.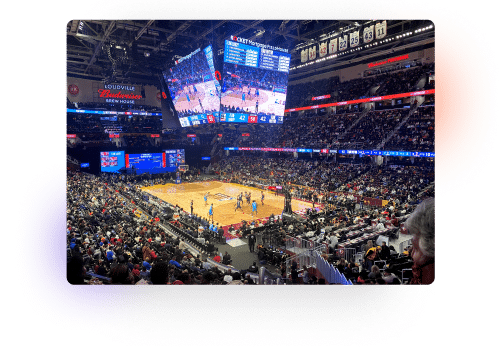 During a chance meeting prior to one of the events, I was introduced to Shelly Cayette, Executive VP and Chief Commercial Officer at the Cleveland Cavaliers. Shelly is one of the first women to hold this position in the NBA ecosystem and is recognised as a ground-breaking female leader.
Shelly undertook to spend time with me, helping me and EngageRM to understand how we can do (much) better with diversity and inclusion in our business. Once we have addressed our own shortcomings, it's my goal for us to help our industry. Technology is very male centric, and I am keen for us to have an influence on changing that. However, before we can do it with others, we must do it for ourselves…
I love basketball. It is the sport I grew up with and I'm fortunate to have many friends at all levels from numerous countries and organisations. As a result, the NBA All-Star Weekend is a dream-come-true for me.
However, by far the best aspect of the event is the opportunity to participate in a forum that is making genuine change when the world needs it more than ever.