20 December 2021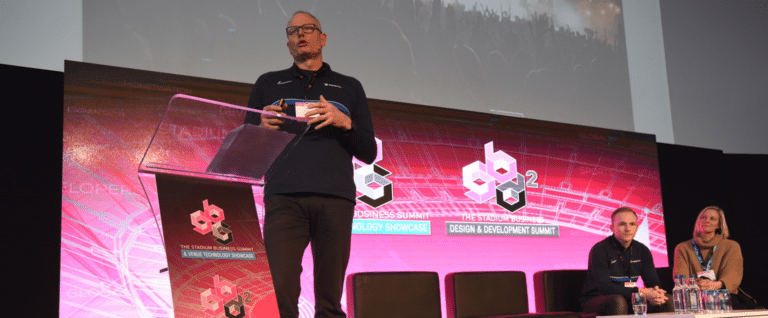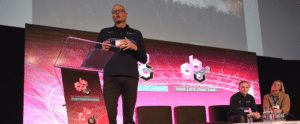 In early December, Tim Barber, Nick Zanotto and Ned Coten from the EngageRM Team visited Manchester and joined Alex Stasyszyn to attend TheStadiumBusiness Summit and TheTicketingBusiness Forum.
The team were able to have a number of other meetings with leading sports and entertainment organisations across the UK and visit our client Co-Op Live, meeting their staff face-to-face for the first time.
This visit was the first time that Alex and Nick have met anyone from the business. As I'm sure many people have observed, just being able to talk face-to-face to people is a real benefit as we try to build relationships coming out of Covid.
The purpose of the trip for EngageRM was to gain a deeper understanding of the UK and European markets and meet with several prospects and other organisations.
The key outcomes and learnings from the trip were as follows:
A focus on the environment
We observed close to 30 presentations during the two weeks with well over 80% focused on the work that organisations are doing around the environment, social diversity, and inclusion. It is reassuring and uplifting to see many businesses in the sports and entertainment space are taking the issues that the globe faces so seriously.
We believe that sports and entertainment have a significant part to play in ensuring that the world is a better place. A big part of this is sustainability and making sure that we take care of people.
As an organisation, EngageRM is on a journey to support this. We are certainly not there yet and there are many things we need to do within our business to be better citizens however, we are aware of this and looking forward to making a bigger contribution in 2022.
Fan engagement more important now than ever
Organisations have realised during Covid that they don't always have a great relationship with their fans or audiences away from events. Teams, venues, leagues, federations, and organisations were forced to think of new ways to connect with their customers and significant innovation has occurred because of this.
EngageRM's focus on being a truly centralised source for data and process was very warmly received and we had several in like the conversations around the value that this can bring to many of the people that we spoke to.
Technology is an easy addition with immeasurable outcomes
Many organisations know that they need some form of CRM but are not sure where to start. While they may have delved into certain areas of their business and use technology well in some of these, there's a recognition that platforms need to be better and it's hard to find a robust CRM in the market.
If this is you, please reach out, we can point you in the right direction? While we believe we have an exceptional platform to enable automation and process and delivery of CRM and data, we also know that we're not the only people out there. There are many excellent consultants and advisors that can help, and we would be happy to put you in touch.
Next year is set to deliver
2022 promises to be an extraordinary year for sports and entertainment industry, and for technology. There are many new innovations, and we are now seeing improved technology that offer solutions to the real challenges within our industry. EngageRM is very focused on the delivering these results and ensuring that our clients and the industry as a whole can improve performance to have better outcomes.
It's been an amazing year, one that we will never forget, and we trust that you can now take some time to reflect over the Christmas period and to come back refresh and stronger than ever to build on your achievements in 2021. We look forward to being part of that journey with you and wish you the very best for Christmas and the year ahead.