19 December 2022
As with any organisation that operates within the sports and entertainment industry, giving back to our community is a key pillar of what we do. 
This year we worked with the Sports Excellence Scholarship Fund (SESF) to build their new application portal to help facilitate their launch as a national charity in 2022. In addition to the portal, EngageRM also provided funds this holiday period in honour of our clients, to support an athlete and their family to attend a national competition.  
We are pleased to announce that this donation enabled Andrew to compete at the 2022 Special Olympics National Games in Launceston, Tasmania.  
Andrew was a member of the Victorian swim team and won 2 silver and 2 bronze medals across a range of events, he also smashed some personal bests as well!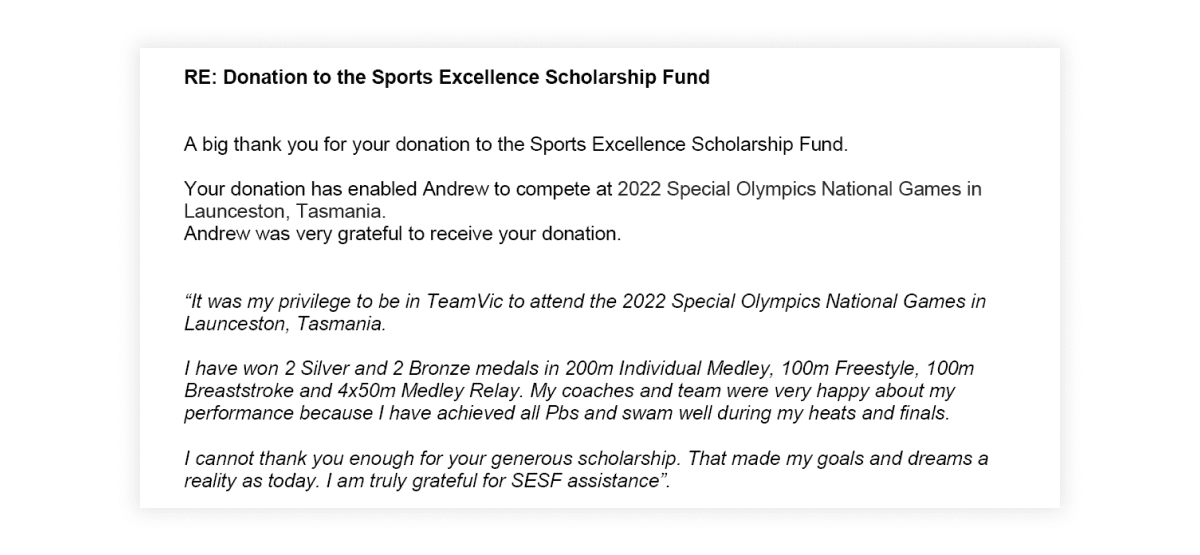 The SESF provides financial support to athletes from disadvantaged or low socioeconomic backgrounds who have been selected to represent their state or country at national or international competitions and would otherwise struggle to attend these meets.  
We're thrilled to continue this partnership into 2023 and look forward to watching the SESF support more deserving athletes and their families.