3 Ways the MLB are Blasting Ahead with Ticketing Technology
17 October 2023
The people have spoken, baseball is back.
Here's what's happening ⚾️🔥
More than 70 million fans will attend Major League Baseball games for the first time in six years
MLB says 92% of tickets were digital this year, up from 86% last season. The trend started before the pandemic, with 14% digital in 2017 and 41% in 2019.
Ballparks are reducing seating sections and replacing them with fan gathering spaces. Like this. And this.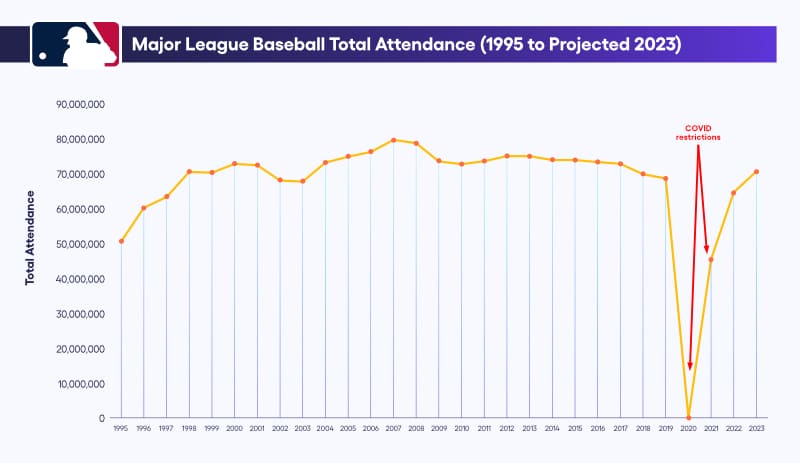 That chart's gotta put a smile on Commissioner Manfred's face.
That rise is welcome news to a league that has felt like it's been creaking along for a while, with cool younger brothers the NBA and NFL taking larger market share, as well as the valuable eyeballs of a sport saturated US public.
And this bump in attendance is no fluke.
On-field changes have sparked an uptick 📈
The league was busy this past off-season and made some changes:
Pitch clocks have been introduced to speed up game time, meaning more offense and earlier finish times that are much more family-friendly
The schedule has been balanced out, so everyone plays each team at least once, meaning more variety in matchups
Clearly the MLB has captured a swathe of data and feedback from their fans and acted swiftly, unafraid to make adjustments to a game steeped in history and tradition.
The people wanted shorter games, more offense, more variety and be in a venue where they can socialise and be entertained. Proof is in the pudding.
Ticketing technology innovations are powering it too 🎟️
And while all that's been happening on-field, both the league and its teams have been pushing the boundaries with some cutting-edge ticketing innovations that are fundamentally built around the fan experience.
Here are 3 huge innovations from the league and its teams: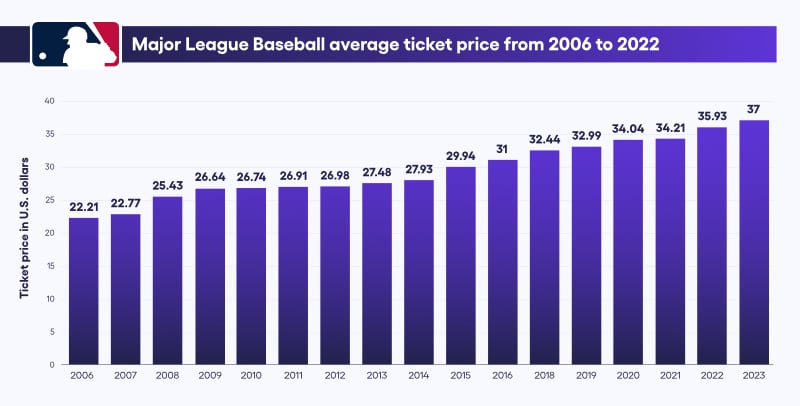 Miami Marlins put the price power in fans hands 🙏
There has been a steady increase in ticket prices over the years, so any innovation that gives fans a bit more control over the affordability of a ticket is going to be a hit.
Live-event ticketing platform TicketRev announced a partnership with the Marlins, giving their fans the ability to choose their preferred price for tickets.
The buyer-driven marketplace allows fans to bid what they would be willing to pay for tickets, which can be accepted by fans who have tickets to sell. They simply pick the game they want to attend, the seating preference and then make their pitch for their preferred ticket price.
This democratization of live event ticketing looks like a win for both fans and teams – let's see if it spreads beyond Miami next season.
Check it out: Make your pitch
Interested in more content like this? Subscribe to our newsletter 👇
Your Face is your Ticket 🙂📷
If you thought the move from physical to digital ticketing was quick, (yes it was helped along by a global pandemic) just wait until you see the rollout of facial authentication to get into games.
That's what the Philadelphia Phillies have been trialling this year. You simply register and take a selfie through the app, then 'Go-Ahead Entry' allows you to walk straight in alongside 1000's of fellow fans.
No scrunched up ticket or phone required, allowing you to get your hot dog and beer in record time.
And for those worried about privacy, its only available for those 18+ and the selfie that's taken is converted into a unique code before deleting itself.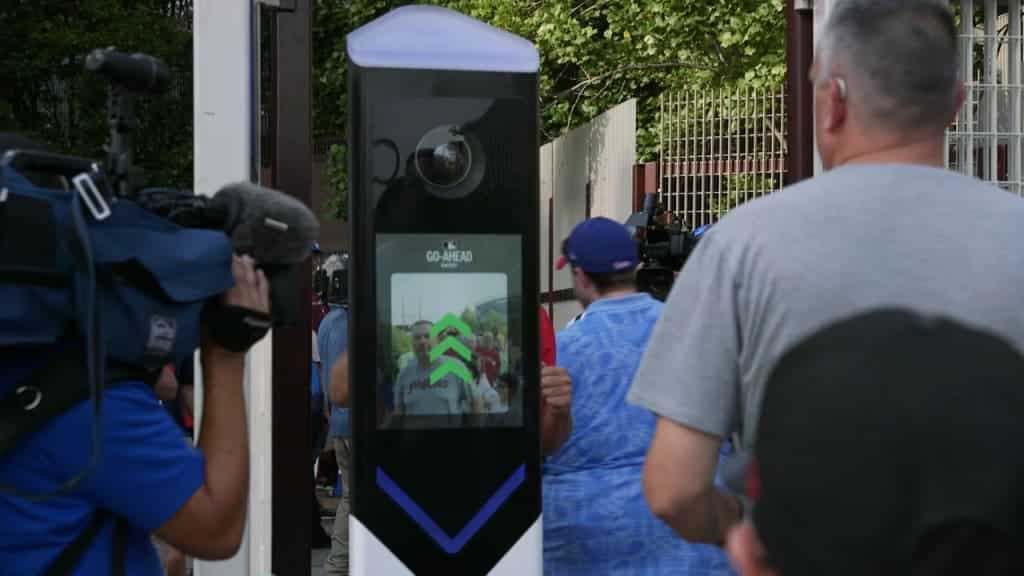 The Ballpark app is now a must-have 📱
After a bit of teething, the Ballpark App is now an essential part of every baseball fans' game day experience.
After they got the basics right (delivering and forwarding tickets) they started to add extra features that added to the fan experience. Personalised notifications, discounts and mobile food ordering have made it a one stop shop for fans. The recent rule changes we mentioned at the top were even shared in the feed for casual fans to get up to speed.
The stickiness of this app enables the MLB to capture huge amounts of first-party-data that helps them make data-driven decisions, tapping into the heartbeat of the fans sentiment and preferences.
As we've seen with some of the rule changes to improve the game, the MLB is listening to its customer and this is the perfect vehicle to do just that.
Speaking of ticketing, we're cooking up something over at EngageRM 👀
Our expert team has made enormous strides over the past few months to seamlessly integrate with leading ticketing platforms, empowering sports organizations to harness the potential of having ticket scan data at their fingertips within minutes.
This will have huge implications for our partners and the data they can collect at speed, so we're pretty pumped.
More details to come, but if you want to be at the top of the list, we'll be sharing the latest with our current customers and any other interested parties that want to know more. Get on the list here.