The Battle for Customers is Outside the Arena
14 November 2023
Who are the Boston Celtics' biggest competition? 🍀
Another rival team? The LA Lakers or the Milwaukee Bucks?
While that might be the case on the floor, there is an area off it where the battle is really heating up.
Customer Experience.
When it comes to brand experience and interactions, your customers now have sky-high expectations.
Why? Because fans aren't comparing their interactions to other rival teams, they are comparing them to their everyday experiences from brands across retail, tech and financial services.
The business world
Amazon gives you insanely personalised experiences, powered by their AI engine to recommend you products that they know you'll love. To boot, they couldn't make the purchase journey any simpler, which gets dangerous when my partner is buying candles and throw rugs for the house. Luckily, Amazon also makes it incredibly easy to return them (when I'm feeling brave).
IKEA are the kings (or Vikings?) of immersive in-store experiences, with beautifully curated spaces, complimentary childcare and meatballs on offer. But they also have an awesome digital experience with the IKEA Place app, which helps you imagine their furniture in your home, using a true-to-scale 3D model.
Hilton Hotels has upped the anti with their digital customer experience, leveraging their Hilton Honors membership which offers rewards to regular customers. Their app also allows you to make reservations, check in and out without waiting, unlock your room and order food. All the annoying bits about staying in a hotel, they have listened and remedied here.
PSA to sports organizations: This is the competition.
This is the level of customer-centricity that your fans expect, because they're getting it everywhere else.
So you gotta pull out all the stops.
Still not convinced?
For the Chief Revenue Officer sitting at the back, take your AirPods out for a second:
Acquiring a new customer can cost up to 6-7 times more than retaining an existing customer.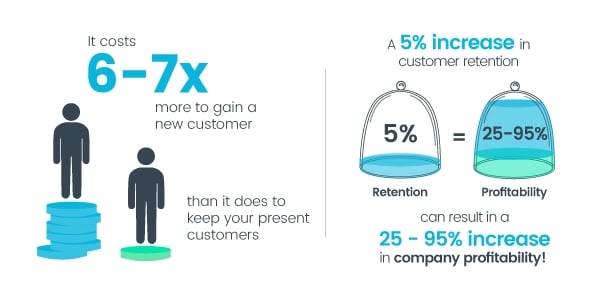 It pays to look after the one's you've got.
So when sports organizations and venues continue to generically interact with every single customer in their database with zero personalisation, they aren't delighting anyone.
And there's two major reasons why this happens:
Functional silos that prevent sharing of customer data
Culture is not aligned around the customers needs
So let's look at what you can do to remedy that:
Interested in more content like this? Subscribe to our newsletter 👇
Democratize your customer data
Share the love… as well as the bad stuff.
It's imperative to centralize access to customer data so its available right across your organization.
This won't be a shock to you, but we suggest a sophisticated CRM that gives you a single view of your customer across all departments. And if it's built specifically for sport and entertainment organizations, even better 😉
The list of benefits for each department are longer than Victor Wembanyama's arms, but here's a few:
Customer Service Team: Gives them a broad view of historical customer interactions, which helps resolve issues quickly.
Ticketing Team: They can review attendance patterns that helps segment audiences and reduce churn.
Marketing Team: Helps them personalize communications that improves engagement and fan loyalty (retention baby).
To bring it to life, we'd like to introduce our friend Jane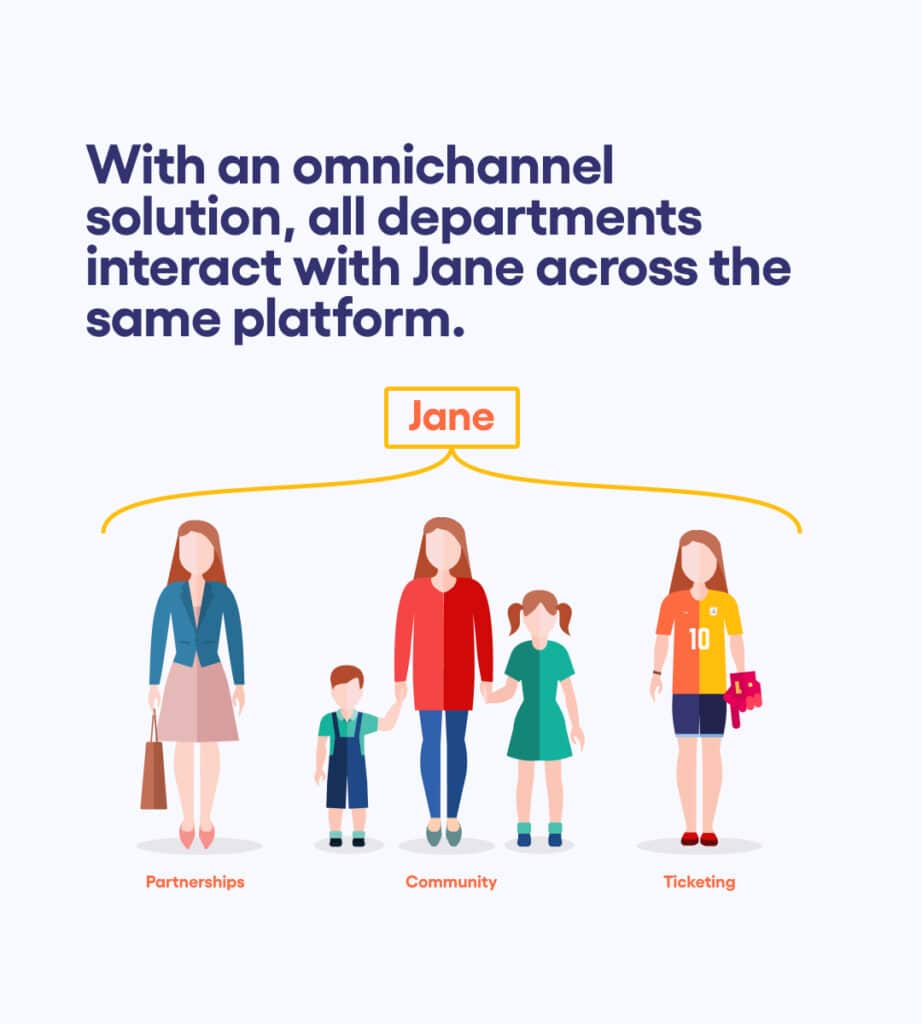 Because the partnerships, community and ticketing departments can all see Jane's interactions with the team, they have a much better understanding of her involvement. That's going to result in a phenomenal experience for Jane, whether she's with her kids, colleagues or at the game with her friends.
Build a customer-centric culture
This all starts with trust in your people. Being employee-centric naturally enables customer-centricity, so empowering your people and treating them well, will result in them going the extra mile for your organization.
We all know what the bad version of this looks like, the bored teenager who couldn't care less about the supermarket he's working for, resulting in a pretty flat experience for us shoppers (that's why we use the robot self-service).
Everyone in your organization, from the mascot to the technical team, should have the customer front of mind. This focus needs to come from leadership to ensure its instilled in the DNA of the organization. Without fans, you haven't got much – so its essential that everyone bleeds customer.
And once thats instilled, you need to be obsessed with capturing feedback in the form of cold, hard, data. No more hunches, guesses or building stuff that the customer didn't even ask for, wasting time and resources. Whilst not always pleasant to hear, it's the only way to get better.
Because as much as it pains us all, the customer is always right.
Here's the TLDR version (which traditionally comes before the article, but whatever)
Customer personalisation is 1% done. There are lightyears of innovation ahead in this space and that starts with a powerful CRM (sorry, had to).
Your product might be awesome, the team is winning and entertaining – the sports department have done their job. What is the business-side doing to delight their fans?
Don't get complacent because you have brand loyalty that other industries would literally kill for. Fans are emotional and irrational – they can drop you with one bad experience.
A customer-centric organization that permeates across the entire business creates an unbeatable culture.
If customer acquisition is your shiny new free agent signing, retention is your franchise player who you drafted at a young age. Look after them.
---
Get early access to our upcoming whitepaper 🎟️
Our expert team has made enormous strides over the past few months to seamlessly integrate with leading ticketing platforms, empowering sports organizations to harness the potential of having ticket scan data at their fingertips within minutes.
This will have huge implications for our partners and the data they can collect at speed, so we're pretty pumped.
More details to come, but if you want to be at the top of the list, we'll be sharing the latest with our current customers and any other interested parties that want to know more.