02 June 2022
The Formula 1 World Championship may be decades old and steeped in sporting heritage. However, as any sports rights-holder will testify, history alone is not enough to appeal to younger fans and entice new viewers.  
Since streaming giant Netflix first brought Formula 1: Drive to Survive to millions of screens around the world in 2019, though, the sport has witnessed a surge in popularity.  
The series has covered four seasons so far, with executive producer James Gay-Rees applying the special touches that ensured international recognition for the 2010 documentary-film, Senna, about the life and death of Brazilian F1 hero Ayrton Senna.  
Nowhere has the impact of the Netflix series been greater than in the United States, where F1's popularity has rocketed in recent years, leading to similar projects surrounding the over-the-top (OTT) subscription streaming service and golf's PGA Tour, top tennis tournaments and NASCAR driver Bubba Wallace. 
After a lengthy period of stagnation, US F1 audience figures leapt by 18% after season one of the series. By 2021, an average of 934,000 viewers were tuning in for each race – a 71% increase in just three years. 
Now, F1's resurgence in the US looks unstoppable. This year, Miami has been added to the race calendar alongside the established grand prix in Austin, and next year an additional night race will take place in Las Vegas. 

Digital tran
sformation
Drive to Survive has represented a key engagement tool for new generations of fans as part of a broader digital transformation that dates back to Liberty Media's acquisition of F1 in 2017.  
From the outset, Liberty Media actively invested in pushing the sport via streaming, social and digital channels in an effort to entice younger fans, many of whom had turned their backs on the sport. 
The approach was in direct contrast to the previous regime, with ex-F1 supremo Bernie Ecclestone having told Campaign Asia-Pacific in 2014 that he "couldn't see any value" in social media before adding: "I don't know why people want to get to the so-called young generation… I'd rather get to the 70-year-old guy who's got plenty of cash." 
Making F1 available across as many platforms as possible was the way forward, such as via the F1 TV OTT subscription service, which launched in 2018, taking fans deeper into the action as part of a personalized experience through the ability to select different camera angles and live on-board perspectives.  
According to the Guardian newspaper, F1's social media follower count is increasing more rapidly than any other sport, reaching 49.1 million in 2021 – and accelerating interest has not only been witnessed in the US. 
For example, whereas highlights of the 2017 Australian Grand Prix attracted 3.8 million views on F1's official YouTube channel, at the latest count, highlights of the 2022 season-opening race in Melbourne had pulled in 9.1 million.  

Closer to the action
As outlined by Oracle Red Bull Racing team principle Christian Horner, the Netflix series offers something that is simply not available through traditional broadcasts. 
"What it gives you is a small insight behind the scenes, and it's engaging a new audience, a young audience, and bringing more fans to the sport," he told GQ magazine. 
Bringing fans closer to the heart of the action through behind-the-scenes content has resonated with a new generation of followers. However, this is something has been witnessed in other motorsport series. Take the Formula E electric car-racing championship, for example, which actually gives viewers the chance to have a direct impact on the outcome of a race. 
Through Formula E's 'fan boost', spectators and viewers can vote for their favorite drivers once per day in the build-up to the event, usually until 15 minutes into the race. The driver with the most votes receives five seconds of extra power to deploy during the race.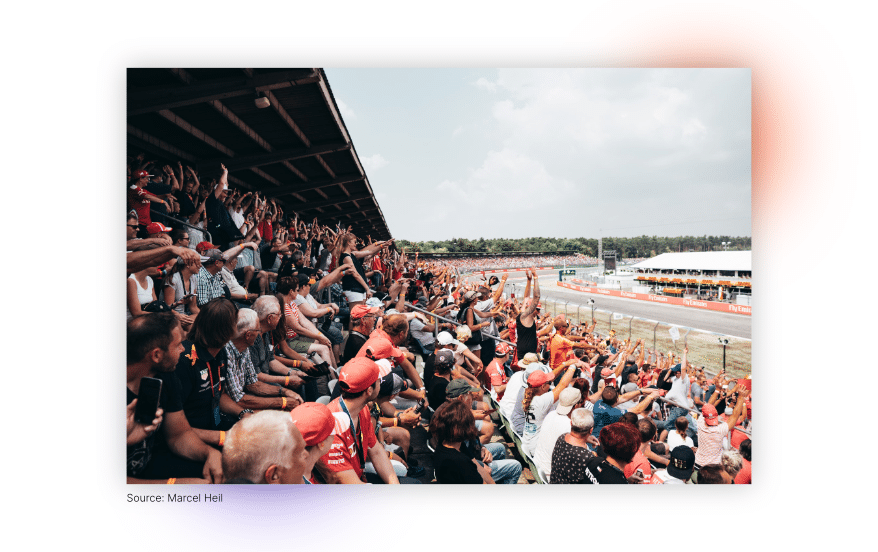 Ticket boost 
Liberty Media's efforts to interact and engage with new and existing fans across multiple digital touchpoints has not only driven a significant increase in viewing figures. Attendances are also improving, building on the momentum of Drive to Survive, which was widely credited for a 15% boost in ticket sales for the first US Grand Prix that was held after the launch of the Netflix series. 
This year, with F1 returning to Melbourne after a lengthy time away due to COVID-19, some 419,000 fans descended on Albert Park for the race weekend. The total beat the season-topping crowd of 400,000 who attended the United States Grand Prix in Austin last year.  
There was also an intriguing shift in the demographic at this year's Australian Grand Prix, with 40% of ticket-holders being women. Andrew Westacott, chief executive of the Australian Grand Prix Corporation, highlighted the impact of Drive to Survive when he told the Melbourne Age that female ticket-holders would typically have made up about 25% of the attendance.  
Australia's showdown is not the only race that has benefited. The British Grand Prix sold out its 142,000 race-day tickets in record time for the 2022 event, with the whole weekend set to attract 400,000 fans – above the 365,000-strong crowd at Silverstone last year.  
Longevity
The challenge for F1 and those supporting projects like Drive to Survive is how they can keep such initiatives fresh for viewers, as well as those in front of the camera. 
Following the latest series, which covered an unusually dramatic 2021 season packed with entertainment, turbulence, on-track battles and an extraordinary conclusion, some critical voices emerged, joining the likes of current world champion Max Verstappen, who first expressed his concerns last year. 
"I understand that it needs to be done to boost the popularity in America, but from my side as a driver, I don't like being part of it," Verstappen told Sports Illustrated. "They faked a few rivalries which they don't really exist. So I decided to not be a part of it and did not give any more interviews after that because then there is nothing you can show." 
The New York Times reported that several drivers have echoed these concerns. However, Verstappen's team principle Horner told GQ: "I think as long as you're honest with yourself, and you give the best that you can, you can't control what a Netflix producer is going to choose to put in his cut or not. I think obviously there is more spotlight on Formula 1, there is more exposure, but ultimately it's a positive thing."  
Ensuring the stars of the show are on board, of course, has to be desirable for any sports organization that is seeking to give fans a glimpse of what happens behind the scenes.  
In terms of amplifying engagement, the opportunity to introduce data-driven and blockchain-based initiatives alongside an OTT offering like Drive to Survive is a clear future consideration for rights-holders who are exploring new ways of interacting with an increasingly tech-savvy audience. 
In this regard, balancing authenticity with dramatic license as part of an engaging digital strategy would appear to be a challenge, as well as an opportunity, for any rights-holder that is seeking to replicate the success of a series that has transformed F1 – and sport – forever.