The Carlton Football Club, formed in 1864, has a proud history and is known as one of the largest and most successful sports organisations in Australia.
The club has grown into a business with many revenue streams that include complex stakeholder relationships. From membership and supporter groups through to corporate clients and sponsors the club has grown into a substantial business to support the on-field team.
EngageRM's supportive approach to achieving our extensive wish list of requirements has ensured a successful implementation of individual business units within the Club.
Jason Reddick, CFO, Carlton FC
The Situation
While Carlton Football Club had a national reputation and very strong supporter base, there were many underlying factors which made operating the business more challenging.
The evolution from a sporting club to a multi-million-dollar organisation required a re-think. With disparate systems and spreadsheets managing core functional areas, the benefits of a single stakeholder view were impossible to achieve. Challenges included:

Stakeholder Management – a large group of stakeholders including supporters, members, corporate clients, sponsors and partners were not being effectively managed. It was a complex environment with communication and engagement under threat.

Membership Management – integration with Archtics was needed to ensure members could be allocated the correct information and levels of access to their entitlements.

Corporate Hospitality and Sponsorship – as two of the major revenue streams, a streamlined process to first add a sale and then ensure entitlements could be correctly allocated was required.

Activity Management – with separate systems managing stakeholder groups there was not a single view of client records

Assets/Entitlements – the ability to manage the sales process from inception to allocation of entitlements was fundamental to the business operation but not optimised.

Marketing & Communications – targeted delivery of information and subsequent analysis of feedback and engagement could not be measured.

Event Management – information was being duplicated in some functions, leading to confusion at critical times and lack of relevant attendance data.

Customer Service – the addition of a comprehensive customer service area was required to manage issues and track responses.
The Solution
The club went through a structured process of selecting a solution that would not only manage initial requirements but also extend into the future as the business continued to evolve.
EngageRM™ was unanimously selected because of the ability to manage the core functional elements and provide a comprehensive CRM environment. EngageRM™ leverages the Microsoft Dynamics CRM platform to deliver critical CRM components and enabled the club to manage all elements of the business and the complex relationships between them.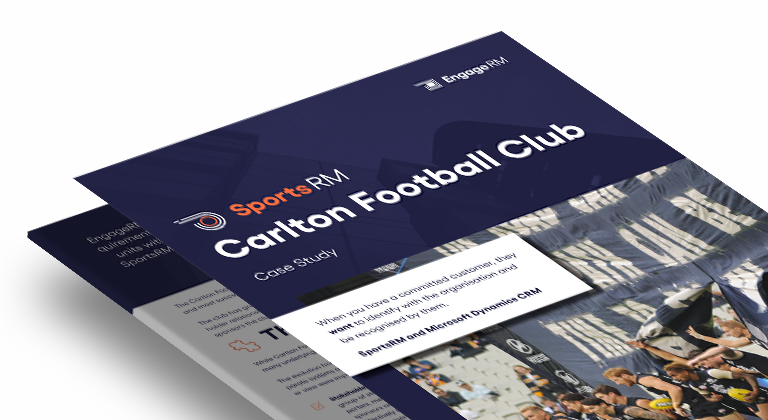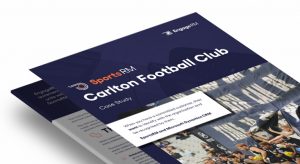 Managing the allocation of entitlements for corporate clients and sponsors is a very complex process and one that required input from multiple areas of the business. EngageRM™ streamlined this process by allocating assets, accepting payment via the SecurePay payment gateway and integrating to PerfectTablePlan for the management of event seating, removing the double and triple handling that existed.

The sponsor entitlements include game-day and club functions and also the allocation of items. EngageRM™ manages these benefits and then extends to manage other entitlements such as player appearances, professional development sessions or any other product the club provides as part of the sponsor agreement.

The corporate sales web portal was introduced. This provided the ability for corporates to purchase game-day functions, club events and take advantage of sponsorship opportunities from the web portal or their mobile devices.

The club uses Ticketmasters 'Archtics' membership management system so it was important that membership information could move from Archtics to EngageRM™. The movement of this data is currently provided with a daily import which continues with all of the stakeholders.

The EngageRM™ reports were extended, allowing the club to manage the sales orders and invoices with GL codes used to reconcile financial transactions. The club was also able to quickly create Excel Pivot Chart reports with the sales detail taken directly from EngageRM™.
  The Benefits
With these new initiatives, including Ticketek integration for attendance data and the ability to allocate tickets from the web portal, the club is now well positioned to build on its proud history for years to come.
Events staff now have visibility over function registrations and guest lists. Sales orders are added to the solution by corporate sales and sponsorship staff, ensuring easier processing after games have been held.
EngageRM™ allows management of players and coaching staff to commitments including appearances, use of images, junior clinics, and speaking engagements, giving more control and feedback to management. Time and cost is allocated with reporting provided for the governance of this process, meaning the club can now use its most valuable assets effectively.
The EngageRM™ platform is driving Carlton Football Club and will ensure that the future is as successful as possible.